South Coast Distillery passionately embodies the essence of the region, crafting exceptional products that celebrate the area's natural beauty through locally and sustainably sourced ingredients. With a commitment to quality and a nod to the coastal landscape, our award-winning products reflect the rich environment and community of the New South Wales South Coast.
What you know today as South Coast Distillery started in 2018, but our story really began in 2011 with a mutual appreciation of gin
between housemates and the desire to create the perfect martini. This soon led to the weekly tradition of 'Martini Thursdays', where each week they explored all varieties of the spirit hoping to discover the perfect gin for the ultimate martini. Although they came close on occasion, they knew they could do better.
Driven by a thirst for knowledge and the desire to create something exceptional, they embarked on a quest to master the art of distilling. They sought out distillers, near and far, absorbing every ounce of wisdom they could find. The journey was not swift, as they honed their skills and amassed a treasure trove of expertise. By 2018, they were primed to unveil their very first commercial release.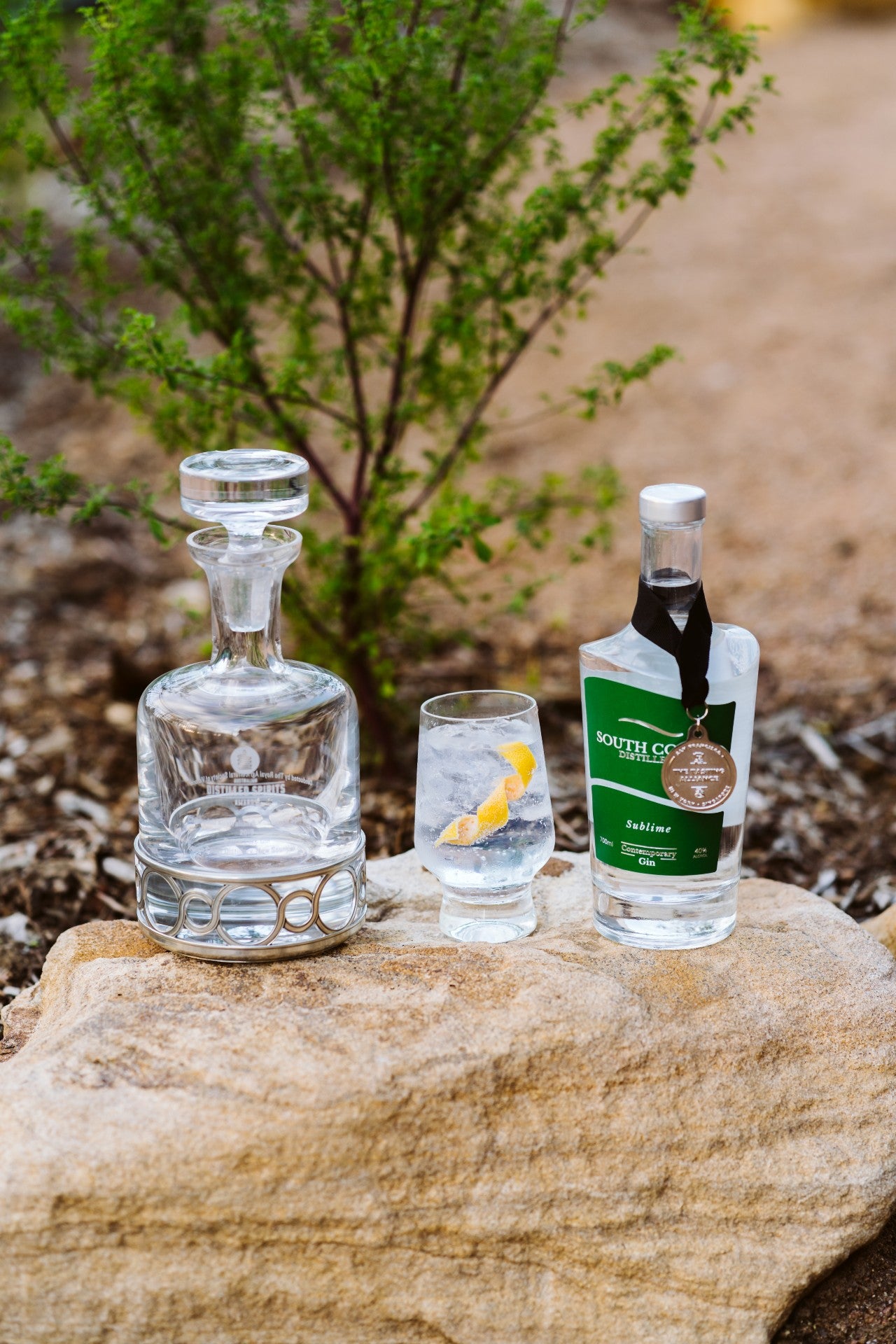 The debut of 'Batch Zero' Sublime Gin was a resounding triumph, propelling the distillery into the limelight. This Contemporary Gin captivated connoisseurs worldwide, earning prestigious accolades such as the
2019 Champion Australian Small Batch Spirit and a Silver Medal at the esteemed San Francisco World Spirits Competition. Further recognition came in 2020 when it secured the Silver Award for Contemporary Style Gin at the illustrious London World Gin Awards – a huge achievement for this humble distillery.
Yet, South Coast Distillery's journey did not end there. Along the way, we have created some truly unique products. From our Oolong tea infused Five Islands Old Tom's, the punchy Breakwater Navy Strength, our native Illawarra Plum 'Sloe-Style' Gin to the distinguished Double Gold medal winning Barrel Aged Geneva. Not to mention our world first Native Black Apple Gin or our delightful Cherry Gin. We have also delved into the world of Vodka, with our fantastic wheat-based Escarpment Vodka and Cold Brew Coffee Liqueur, and we also wait as our whisky is finally coming of age.
Approaching our fifth birthday in 2023, we reached a full circle moment. Over a decade after the inception of 'Martini Thursday' and after a long journey of trial and error, tinkering with recipes and complete overhauls we've finally found what we were originally seeking to find, the perfect martini gin. Our London Dry Gin is the culmination of years of experimentation, relentless pursuit of perfection, and unwavering dedication. We are extremely proud to share this with you.
As we continue on this remarkable journey, South Coast Distillery remains dedicated to our region and supporting the community who support us. We will continue to create fantastic products that reflect the natural beauty of the region and our diverse community.
We hope you continue to come on this journey with us.